Saylor's Doc Holliday (Doc)
Saylor's Doc Holliday (Doc)
NKC, UKC & ABRA Registered
Stats
Height: 26
Weight: 109lbs
In Loving Memory - RIP Doc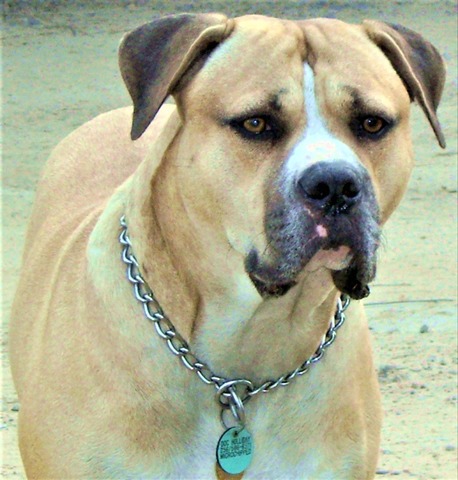 Sex:

Male

Date of Birth:

May 4th, 2004

Date of Death:

July 3rd, 2011
Owner:

Louette Saylor and/or Tommy Stallings
Doc was our prominant male and "Alfa" dog. He was NKC, UKC and ABRA registered. He was out of Sire, Batman Capdevila's Nightmare and Dam, JC's Brandy Addiction. Some of the well known dogs in his background are his Grandfather, Leatherneck's Lancealot and Great Grandfather, Champion Leatherneck's Tyson.
Doc was one nicely-balanced male. He came with the whole package. It is my belief and that of our mentor, Fred that Doc is/was the best structured dog on our yard. I dare say he was one of the best structured dog's I've seen. He was a well put together canine with an amazing personality! Doc was a producer of Champions and we always felt that any offspring from Doc would have had a very good chance at succeeding in the show ring.
Doc was a big boy, yet he was balanced out and moved like a dream. What can we say.. he just loved to show! He also had one of the tightest reverse scissor bites we've seen. He had a handsome carriage and very defined rear end. The back end is very important and is what drives the dog. I think this was one of Doc's best features, along with that beautiful head and straight body.
Doc only needed a Best Male to finish as a Champion with the NKC. He did not like other large males, so we had to be cautious while showing him, yet he was outgoing and friendly in the ring with the stewards and judges. It's always best when showing to start them out as early as possible. I wish a thousand times over we had started sooner with Doc. Had we done so, I have no doubt he would have earned his Championship. He was just too nice not to have!
Doc started his show career back in 2005. We entered him in Heart of Dixie in Springville, Alabama. He captured 2nd place on Saturday and 3rd place on Sunday in the Veteran Puppy Class. That was his first dog show ever!! He went on to show in several other venues with both the NKC and UKC.
He brought home many trophies and ribbons in conformation. He was the beginning of what has become a wonderful, fun hobby for us. Doc was all the things you could ask for in a best friend for life. He was smart, spoiled, loyal, strong, stubborn, protective, goofy, loving and an absolute pleasure to have around. I miss the big guy sooooooooooooo much! I see so much of him coming out in our lines. I know he's there and it pleases me to know he continues to live on!