Saylor's Goldilocks (Goldi)
Saylor's Goldilocks (Goldi)
NKC, UKC & ARF Registered
Stats
Height: 22.5
Weight: 78lbs
In Loving Memory - RIP Goldi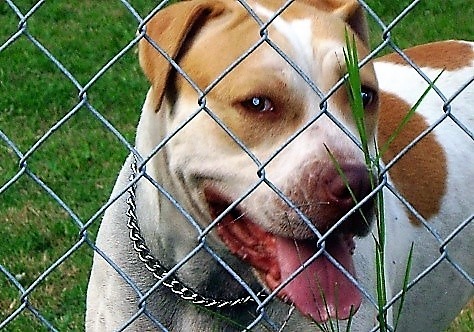 Sex:

Female

Date of Birth:

July 26th, 2005
Goldi was NKC registered and came off Gerald Miles' from Waynesboro, MS stock that goes back into Vader Red, one of the most famous American Bulldogs from years gone by. Her Sire was M's Casp Cleo Pete. Dam was M's Lady Vader Red both of which were ARF registered.
Goldi was go getter! She never slowed down. I swear, I think she had the stamina of a racehorse! She had a nice, wide front end, great muscle tone and complimented Doc nicely. Goldi was real gritty. She didn't mind getting her paws a little dirty.
While she was never a prime "show dog", she has many other fine attributes and a great bloodline to boot. We couldn't have asked for a better mother to our pups. We can see a lot of Goldi in our offspring.
Her lines brought thickness and bone, not to mention a lot of fire in the belly. She was a fine and prime example of an American Bulldog.