Saylor's Tsunami of Gunslinger (Tsu)
Saylor's Tsunami of Gunslinger (Tsu)
NKC & UKC Registered
Stats
Height: 22
Weight: 77lbs
DNA: NCL Clear By Parentage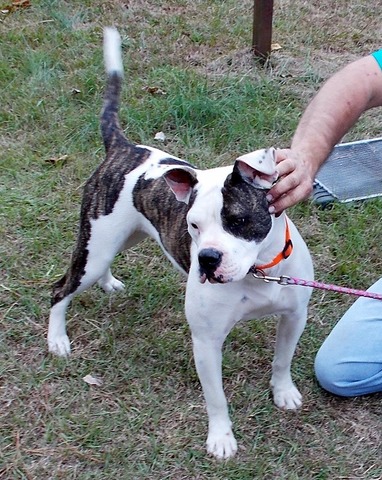 Sex:

Female

Date of Birth:

December 9th, 2012
Owner:

Louette Saylor and Tommy Stallings
Tsunami comes to us from Gunslinger Kennels in North Carolina. She was the 2nd pick female after the owner's. Tsu is a sweet girl with a fabulous temperament. She is built like a little sherman tank. She is thick, yet compact and has a wide chest.
Though not a big girl, Tsu is super strong and definitely packs a punch. She is our energizer bunny. Her batteries never seem to run down. Tsu is also curious and loves to explore new things. She has never cared much for the show ring and her ear set is not quite right for that, so we decided to let her be content with other activities. She will zero in on anything that moves, like the working events.
Tsu shows a lot of interest in the tugs, toys, bite pillows etc. She loves toys of all kinds and yes, she will hit a sleeve! She brought home 3rd place in the Driviest Puppy contest when she was younger. She has had one litter of pups and was a wonderful Mom. She produced a beautiful, healthy litter. We love having her as part of our family!