GRCH Saylor's Little Red Express (Rusty)
GRCH Saylor's Little Red Express (Rusty)
NKC & UKC Registered
Stats
Height: 27
Weight: 101lbs
DNA: NCL Clear
Hips: OFA Good
Available For Stud Service (to approved females)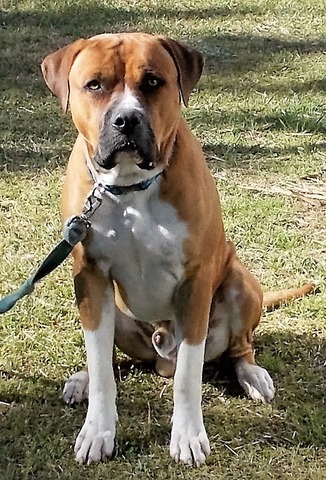 Sex:

Male

Date of Birth:

April 13th, 2015
Owner:

Louette Saylor and Tommy Stallings
Saylor's Little Red Express aka Rusty has matured into a very nice Scott/Standard type male. Rusty is a rare gem. He finished his Championship at 6mo's old and is now a Grand Champion. He also has earned some nice wins in conformation. He loves to show, like his Mom & Grandpa. Rusty is long, tall, lean and extremely athletic. He has great endurance and doesn't know the meaning of quit.
If Rusty were a horse, he'd probably be a thoroughbred. He's one handsome guy! He is a deep red color with white markings in all the right places. He has a huge set of pearly whites! We love his tight bite and those huge cheek muscles. He has some really nice features!
Rusty has a nice temperament, but can be a little stand-offish with people he doesn't know. Sometimes it takes a while for him to warm up to strangers. He is a little more on the serious/intense side. This dog is all about FOCUS and that bulldog determination.
Once he zeros in on something, it's game on! He is ball nuts and has amazing drive. I've never seen a dog as crazy over balls as he is, except may be his half sister, Chunky. As much as he loves treats, if one offered him a ball or a cookie, he'd probably take the ball every single time!
He's got a quirky little personality, can be laid back and wants to please, but on closer inspection, one will see he has a huge mischievous streak. It sneaks up on you when you're least expecting it. We've had some very nice offers, but we couldn't part with him. We hope to keep this guy around for a very long time!