GRCH Saylor's Crackerjack Attack, CGC (Red Dog)
GRCH Saylor's Crackerjack Attack, CGC (Red Dog)
NKC & UKC Registered
Stats
Height: 24
Weight: 86lbs
DNA: NCL Clear
Hips: Vet checked
CGC (Canine Good Citizen)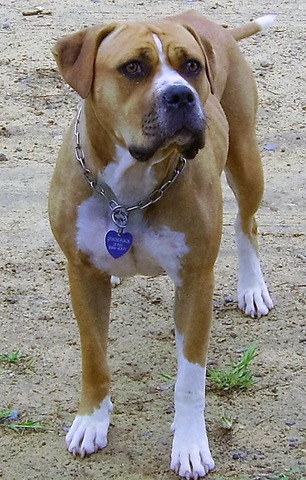 Sex:

Female

Date of Birth:

August 31st, 2007
Owner:

Louette Saylor and Tommy Stallings
Crackerjack aka "Red Dog" is from the Doc X Goldilocks breeding from 08-31-07 and is belly sister to our Hunter. She was my pick of the litter and we kept her as a show prospect. She has not disappointed. Red Dog has been my go-to girl, since losing her Pappa Doc. She is my constant companion these days and is always by my side. She is a deep, red fawn color. Red Dog is very drivey. She has correct bite, great movement and structure, with plenty of muscle in the bustle. She quickly took over the alpha female position and is currently the dominant dog on our yard.
Check out the below picture of father and daughter from behind.
Red Dog has a wonderful temperament. She is a quick learner and is very intelligent. She breezed right through basic obedience exercises, and was able to earn her CGC (Canine Good Citizen) certificate at the Middle Georgia Kennel Club. She also made it into the Top Ten with the UKC, where she went on to reach the #3 American Bulldog a few years ago. She was also invited to participate in the Top Ten and UKC Premier Show in Richmond, Indiana.
While she wasn't selected as the Top Ten Winner, she was the only female in attendance, and did extremely well. She did better than ever in the ring, and won her Champion Class at the Premier Show. She later went on to earn enough legs to become a Grand Champion! Pappa Doc is smiling down from up above at his beautiful daughter!! We are very proud of her!!!
We'd like to say a BIG thanks to our brother, Mr. Fred Lanting for handling Red Dog. We appreciate all his help and advice with our dogs. Fred is an ultimate master at what he does!! We have NEVER seen or met anyone who is more passionate, esp when it comes to dogs!! Fred truely is the Doggy Lama!!
Red Dog is mostly retired these days and is enjoying her leisurely country life. She stays busy chasing chipmunks and watching for anything else that moves.