GRCH Saylor's Miss Gingerbread (Chunky)
GRCH Saylor's Miss Gingerbread (Chunky)
NKC & UKC Registered
Stats
Height: 23
Weight: 81lbs
DNA: NCL Clear
Hips: OFA Good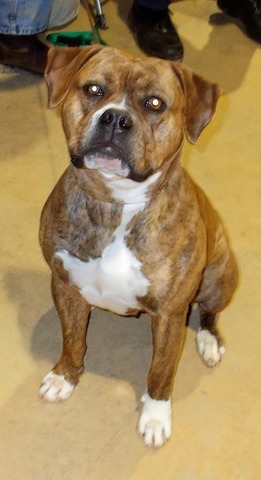 Sex:

Female

Date of Birth:

May 17th, 2013
Saylor's Miss Gingerbread.. we call her the chunky monkey or just Chunky for short. She is a real go-getter and chip off the old Red Dog block. She is a very nice example and combo of both her mother, Crackerjack aka Red Dog and father, Webb's Doc of Powerhouse aka Doughboy.
Chunky has matured into a rock. She is extremely strong and agile. She has lovely conformation with the physique of a body builder. She is also one high drive girl, esp., with toys & tugs. Chunky loves to show and is a quick mover, just like her mother, Red Dog and Grandfather, Doc.
She has a happy-go-lucky personality in the ring with a super temperament. The tail is always wagging and the judges usually love her. Though she has one of the best temperaments around, she is one that will not back up an inch. She is friendly and outgoing, but if she senses a threat, watch out! She is one of the most protective dogs on our yard.
We continue to hope for good things in the future from our little brindle baby. She has had some memorable wins in both the NKC and UKC and is a hard one to beat when she's on her game.